Exothermic Weld for Rail Signal Bonds and TLJB Bonds – Amiable Impex®
---
What is Continuity Bonds / Rail Signal Bonds and TLJB Bonds?
1. Continuity Bond – this is a wire connected to 2 consecutive tracks to maintain electrical continuity. The welding is done on the rail head (top of the rail track, below 1/2 round on which the wheels roll). A set of two moulds are used to achieve the joints (LH – Left Hand & RH – Right Hand). The wire size and length are fixed as mentioned in the enquiry. The wire is Copper and its capped at both ends (by a hammer head die).
Normal Cable Size – 10 sq.mm – 4.05 mm dia.
2. TLJB – this is a connection from rail web (centre of rail track)/ earth pipe to TLJB (equipment) terminal. Here again LH & RH moulds are used. The wire sizes can be different. It is also known asTrack Lead Joint Bond / Track Lead Junction Box.
Normal Cable Size is- 35 sq.mm – 8mm Dia
Both tasks are simple to perform provided you can source the continuity bond wires
(1). Weld metal required will be 25g for 3/16 dia cable size.
JOINT BOND KITS
A kit comes with the following items:
200 Shots
2 replacement Molds (Right & Left)
Flint ignitor
HAMMER DIES : Bonds can be made in the field using supplied copper alloy signal cable, or your own cable, a copper sleeve, and a hammer die.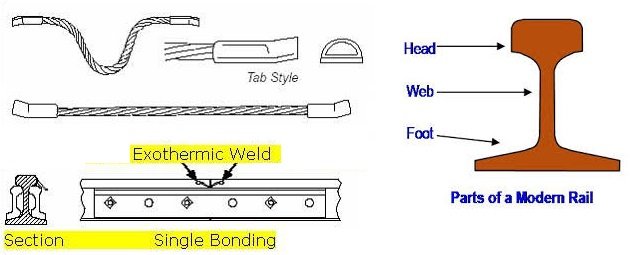 We have started manufacturing top quality Rail Signal Bond, which is also known as Rail Head Bond, Rail Continuity Bond, Rail Web Bonds, etc. This Continuity Bonds are Manufactured from superior quality Metal. The Rail Continuity Bonds – Signal Bonds offered by us are used for continuity of rails for Track Circuit Applications, which are used in Exothermic or Thermite Welding. We are able to provide 3/16" or 5/16" Bond Strand or customized Bond Strand as per the specifications of the clients.
These Rail Continuity Bonds / TLJB Bonds have flexible multi-strand conductor made of Iron-Zinc Alloy, Cadmium Bronze or Copper Alloy made in Rope Lay Construction. The breaking strength of our Bonds is minimum 540kg.
These Rail Continuity Bonds / TLJB Bonds are widely known for their excellent performance, durability and resistance against diverse conditions properties. We are also Manufacturing Continuity Bonds used in Pin Brazing. Their increasing demand in Global Market has made us a proficient name among the counted Rail Signal Bond Exporters from India.
Technical Specifications :
Diameter : 3/16″
Length : 6.5″ and 7.5″
Features of Rail Continuity Bonds / TLJB Bonds :
Easily Installation
No Power Source Required
High Tensile Strength
Exceptional electrical conductivity
Resistant to Corrosion
Provide protection against Broken Rail
Usable on Old / Worn / New Rail
Provide maximum protection against physical damage to Rail